COOKE Santa Barbara Fire Pit Table 48" x 48" x 17" - Aluminum Top - XL Pan
COOKE Santa Barbara Fire Pit Table 48" x 48" x 17" - Aluminum Top - XL Pan
/shop/sbr-a48x48bx4x17-cooke-santa-barbara-fire-pit-table-48-x-48-x-17-aluminum-top-xl-pan-6149
The Santa Barbara outdoor fire pit table is COOKE's contemporary lounge height table with oversized top. This impressive table features a solid, simple, straight sided block base and contemporary aluminum table top. The Santa Barbara is available in a wide variety of color combinations - a perfect match for your own backyard, pool areas, or outdoor living space. Built with the same legendary COOKE quality, this table conveys an impression of permanence, tranquility, and comfort.

The 48" x 48" is a great square size and accommodates seating up to 4. Our customers love this table's stain resistant aluminum, granite, or real marble table top which has plenty of room for plates and drinks. This table is a great balance between overall size, table top space, and fire pit size.

COOKE produces some of the finest fire pit tables in the industry which can be seen in the level of detail brought to the table top surface. Finally, a fire pit table with a premium table top! Cover up the fire pit with the stainless steel burner lid and this table doubles as a premium outdoor stone table.

We offer this outdoor fire pit table with a propane or natural gas fuel source configuration. The 60k BTU fire is fully adjustable with stainless steel controls mounted on the table base. The 24" x 24" fire pit holds your choice of lava rock, fire glass, or other media and produces a clean burning fire. The propane tank is hidden in the base of the table an easily accessed via a color-matched panel door. There are no hoses or tanks outside of the table. The natural gas version is connected to your home's natural gas stub with our stainless steel flex lines. Perfect for new construction or hardscape renovations. We provide you all the hoses and fittings to connect your fire pit to either fuel source and get the job done!
This product is available for an AWEIS upgrade. All weather electronic ignition systems are known for their high-quality and durability and are perfect for your outdoor fire pit table but do require electrical connection to the building.

COOKE fire pit tables are made in California using precision CNC bending and laser cutting technology. COOKE's mission is to simply build the best products and create unforgettable outdoor experiences close to home. From New York to San Francisco, architects, designers, and homeowners have purchased COOKE fire pit tables for their residential, commercial, and public spaces. When you buy COOKE, you get industry-leading quality, safety, and design.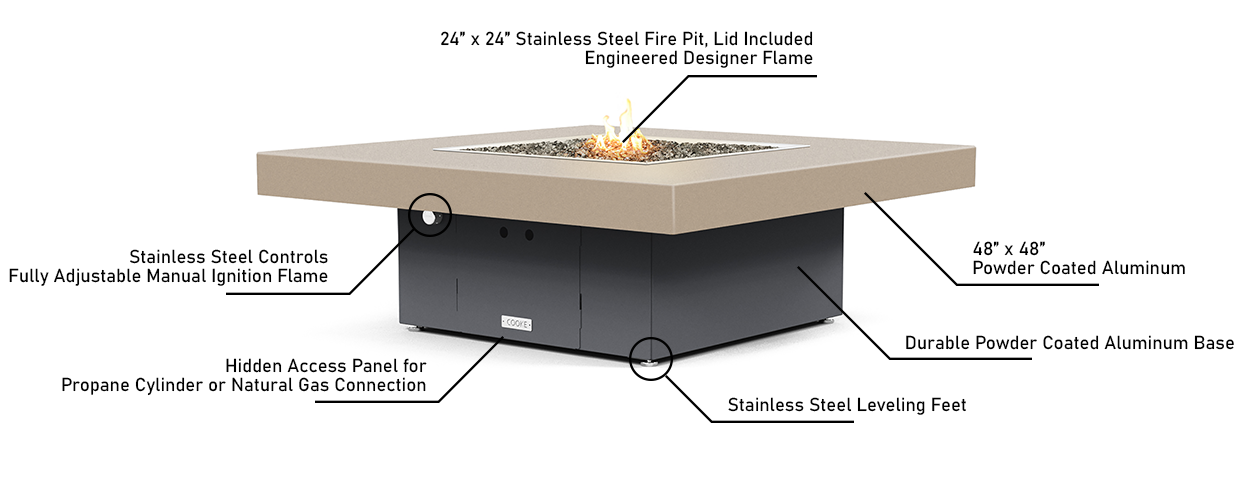 Overall Size: 48" x 48" x 17"
Fire Pit Opening Size: 24" x 24"
Key Features:
Designed and made in the USA
The Santa Barbara is a 17" tall contemporary lounge height fire pit table
Simple and durable this style features a table top with thick 4" edge and a straight sided base
Table top available in extra durable formed 5052 aluminum table top
Heavy-duty 14 gauge powder coated 5052 aluminum base available in Bronze, Black, Beige, Grey, and Oil Rubbed Bronze
Fully adjustable 60k BTU fire
Available for Propane or Natural Gas fuel sources
Burner system constructed from 304 stainless steel
Machined, 304 stainless steel fuel control knob safely controls the flame
(1) Horizontal Propane cylinder included with Propane models
Includes stainless steel non-whistling gas line with brass fittings on all connections for maximum corrosion resistance
Commercial grade Propane Regulator with stainless steel braided hose included with Propane models
Low profile stainless steel burner lid included, keeps debris and moisture out the fire when not in use.
Lid allows for full use of the table top when fire not in use
304 Stainless steel leveling feet adjust to any uneven surface
Easy assembly click here for instructions
Lead time 1-3 weeks