COOKE Parkway Fire Pit Table 56" x 56" x 30" - Stone Top
COOKE Parkway Fire Pit Table 56" x 56" x 30" - Stone Top
/shop/pkw-s56x56x1x30-cooke-parkway-fire-pit-table-56-x-56-x-30-stone-top-6133
The Parkway 56" x 56" dining table is the perfect large square outdoor fire pit table. This table features a 56" x 56" premium stone table top which comfortably seats 4. With the Parkway 56" x 56" you get a generous amount of table top space for everyday use - you will enjoy it when dining, having drinks with friends, or for placing your book, tablet, or newspaper. Choose from our selection of ultra durable powder coat finishes and stone tops to customize your table and make it perfectly match your space.
The overall height of this table is 30". The powder coated table base features simple durable lines and also features your choice of powder coat color. A 5 Gallon / 20lb vertical propane cylinder perfectly conceals in the table base. There are no hoses or cylinders outside of the table. An ingenious legged base extension allow feet to comfortably extend underneath the bottom of the table. Great for sitting back in your chair and stretching out your legs!
This product is available for an AWEIS upgrade. All weather electronic ignition systems are known for their high-quality and durability and are perfect for your outdoor fire pit table but do require electrical connection to the building.
COOKE fire pit tables are built to last, ensuring you have an easy to use premium product built from the best materials. A brushed stainless steel fire pit lid is included with this table. This lid will cover the fire pit when it is not in use. Great for cleaning up the look of your table and it also helps keep moisture and debris out of your fire pit.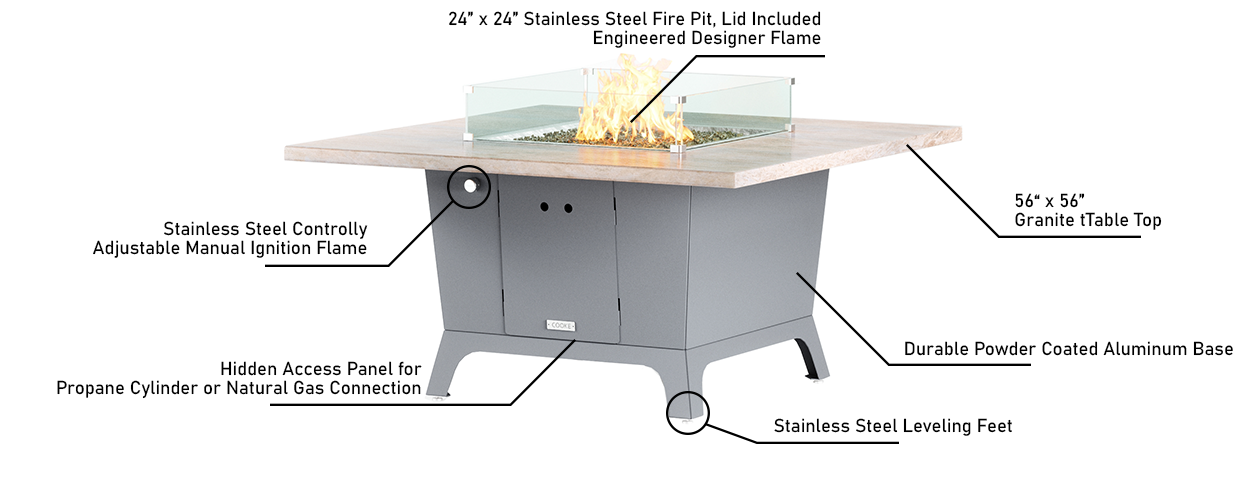 Overall Size: 56" x 56" x 30"
Fire Pit Opening Size: 24" x 24"