COOKE Parkway Fire Pit Table 56" x 56" x 21" - Aluminum Top
COOKE Parkway Fire Pit Table 56" x 56" x 21" - Aluminum Top
/shop/pkw-a56x56x1x21-cooke-parkway-fire-pit-table-56-x-56-x-21-aluminum-top-5934
The Parkway fire pit table is COOKE's solution to a great-looking, quality, made-in-USA square fire pit table that is versatile and a great value. This chat height fire pit table features a generous table top on a 21" tall slightly tapered modern base. This table has fine all aluminum top in a variety of colors that radiate a clean simplicity. This table is big enough for ample seating but is carefully designed to be integrated into landscaped lounge areas, open patio spaces with planters, or near fountains and water features. We love the foot room under the table.The COOKE Parkway is hands down the best value for an all aluminum or real stone fire pit table.

The 56" x 56" table top is a nice large size and accommodates seating up to 4-6. Our customers love this table's stain resistant aluminum or granite table top which has plenty of room for small plates and drinks. COOKE produces some of the finest fire pit tables in the industry which can be seen in the level of detail brought to the table top surface. Finally, a fire pit table with a premium table top! Cover up the fire pit with the stainless steel burner lid and this table doubles as a premium outdoor stone table.

We offer this outdoor fire pit table with a propane or natural gas fuel source configuration. The 100k BTU fire is fully adjustable with stainless steel controls mounted on the table base which is leveled with adjustable stainless steel feet. The 24" x 24" fire pit holds your choice of lava rock, fireglass, or other media and produces a clean burning fire. A 5 gallon / 20 lb. propane tank is hidden in the base of the table an easily accessed via a color-matched panel door. There are no hoses or tanks outside of the table. The natural gas version is connected to your home's natural gas stub with our stainless steel flex lines. Perfect for new construction or hardscape renovations. We provide you all the hoses and fittings to connect your fire pit to either fuel source and get the job done!
This product is available for an AWEIS upgrade. All weather electronic ignition systems are known for their high-quality and durability and are perfect for your outdoor fire pit table but do require electrical connection to the building.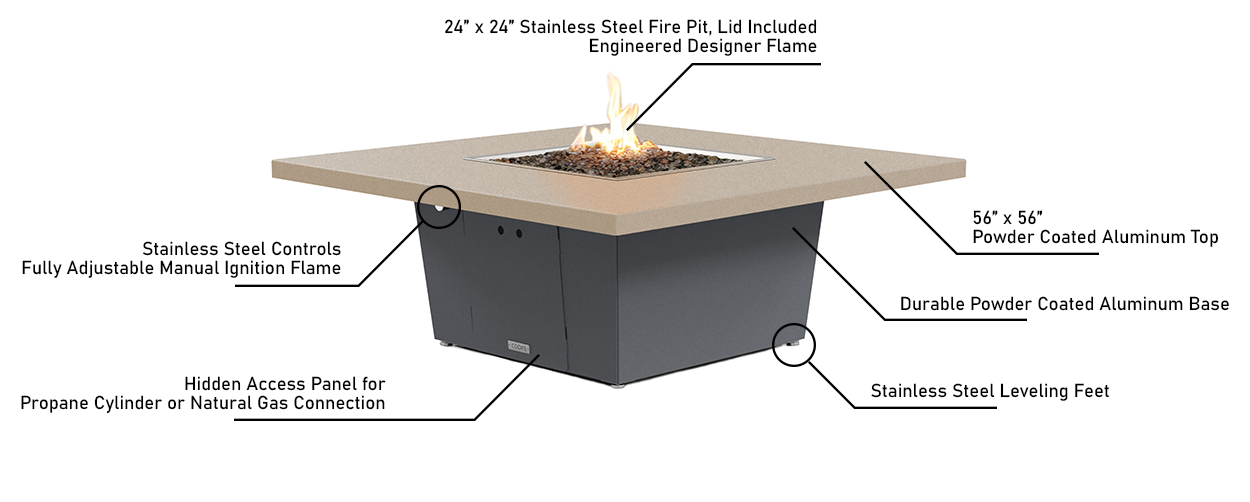 Overall Size: 56" x 56" x 21"
Fire Pit Opening Size: 24" x 24"
Key Features
Designed and made in the USA
The Parkway is a 21" tall contemporary chat height fire pit table
Simple and durable this style features a table top with 3cm edge and a slightly tapered base
Table top in powder coated extra durable formed 5052 aluminum
Heavy-duty 14 gauge powder coated 5052 aluminum base available in many colors
Fully adjustable 100k BTU fire
Available for Propane or Natural Gas fuel sources
Stainless steel burner and 304 stainless steel burner pan withstand repeated use in corrosive environments
Machined, 304 stainless steel fuel control knob safely controls the flame
Low profile stainless steel burner lid included, keeps debris and moisture out of burner when not in use.
304 Stainless steel leveling glides adjust to any uneven surface
Easy assembly click here for instructions
Lead time 1-2 weeks