COOKE Olympic Fire Pit Table 55'' Diameter x 30" - Stone Top
COOKE Olympic Fire Pit Table 55'' Diameter x 30" - Stone Top
/shop/oly-s55xdx1x30-cooke-olympic-fire-pit-table-55-diameter-x-30-stone-top-5647
If you're looking for unique dining-height fire pit tables, COOKE has you covered. The Olympic Round Firepit Table features a winning combination of ample table top space, custom options, and 60k BTU burner. The Olympic Round Firepit Table is built for having good times with your friends and family. Perfect for heating up the evening, this round fire table is also an amazing garden hideaway centerpiece or as your everyday outdoor dining table.

One of the key elements of the Olympic round fire table is the large, round, 55" diameter table top. We offer this table top in a one-piece premium 3cm thick granite. COOKE specializes high end granite tops that add rich texture and integrate naturally into a sometimes demanding outdoor environment. This table top is large enough for a full meal setting and tall enough for dining chairs with armrest.

A solid, slightly tapered, all-aluminum square base preserves a feeling of openness, lightness, and also increases the amount foot room. It fully conceals a 5 gallon / 20lb propane tank or is easily connected to a natural gas line. With all COOKE fire tables, there are no hoses or tanks outside of the table. The flame adjustment knob is milled from 304 stainless steel, is easy to control, and is discretely located on the base of the table. An all-stainless burner system produces a hot golden glow and can be covered by the stainless steel lid when not in use.
This product is available for an AWEIS upgrade. All weather electronic ignition systems are known for their high-quality and durability and are perfect for your outdoor fire pit table but do require electrical connection to the building.

Cooke is a California company and is proud to build all of our tables in Los Angeles using an amazing crew and precision CNC bending and laser cutting technology. The mission is to simply build the best products and create unforgettable outdoor experiences close to home. When you buy a COOKE fire pit, you buy industry-leading quality, safety, and design.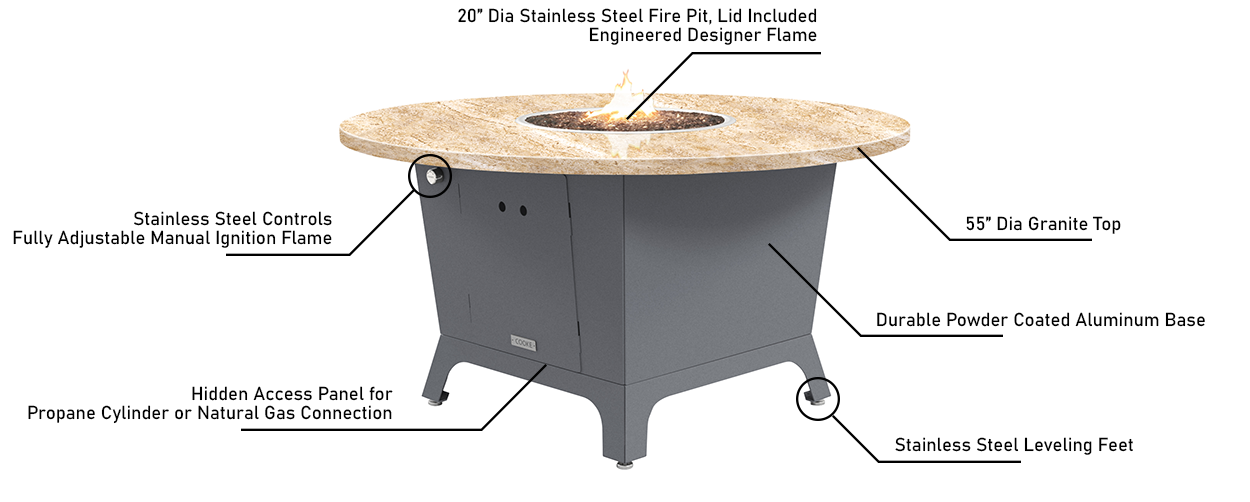 Overall Size: 55" Round x 30"
Fire Pit Opening Size: 20" Round
Key Features:
Designed and made in the USA
The Olympic is a 30" tall round contemporary dining height fire pit table
Simple and durable this style features a large round top with 3cm edge and a slightly tapered base
Table top available in a premium granite
COOKE granite table tops are expertly cut from one slab
Heavy-duty 14 gauge powdercoated 5052 aluminum base available in many colors
Fully adjustable 60k BTU fire
Available for Propane or Natural Gas fuel sources
Stainless steel burner and 304 stainless steel burner pan withstand repeated use in corrosive environments
Machined, 304 stainless steel fuel control knob safely controls the flame
Low profile stainless steel burner lid included, keeps debris and moisture out of burner when not in use.
304 Stainless steel leveling glides adjust to any uneven surface
5 gallon / 20lb standard propane cylinder not included for propane models
Lead time 2-4 weeks