Outdoor Greatroom - 30" Round Glass Wind Guard
Outdoor Greatroom - 30" Round Glass Wind Guard
/shop/glass-guard-30-r-outdoor-greatroom-30-round-glass-wind-guard-4630
Wind guards are a must-have accessory for any gas fire pit. Not only do they improve the quality of the fire by blocking out the wind, but they also provide an additional level of safety for you and your guests. Made from high-quality tempered glass that can withstand high temperatures and won't obstruct your view, glass wind guards are incredibly easy to clean, assemble, and enjoy for years to come.
This glass wind guard measures 34.5" in diameter and is recommended for 30" diameter fire pit burners.
Includes:
4 glass pieces of 6" height
Polished clips
Rubber base stops
Assembly instructions
Benefits of a glass wind guard:
They help keep the flame from going out
They provide an added measure of safety
They can save you money
They help keep unwanted items out
They're a stylish addition to your fire pit
How to choose the correct wind guard size for your fire pit
The most important thing to note is that the wind guard has to be bigger than the fire pit opening. You DO NOT want your glass wind guard to sit in the interior of the burner pan, as they're not designed to be directly in the fire. We recommend using dimensions that extend 2 inches beyond your fire pit opening on each size. If your tabletop is smooth and level, it can be as close as 1 inch away, but 2 inches is a very good rule of thumb to follow.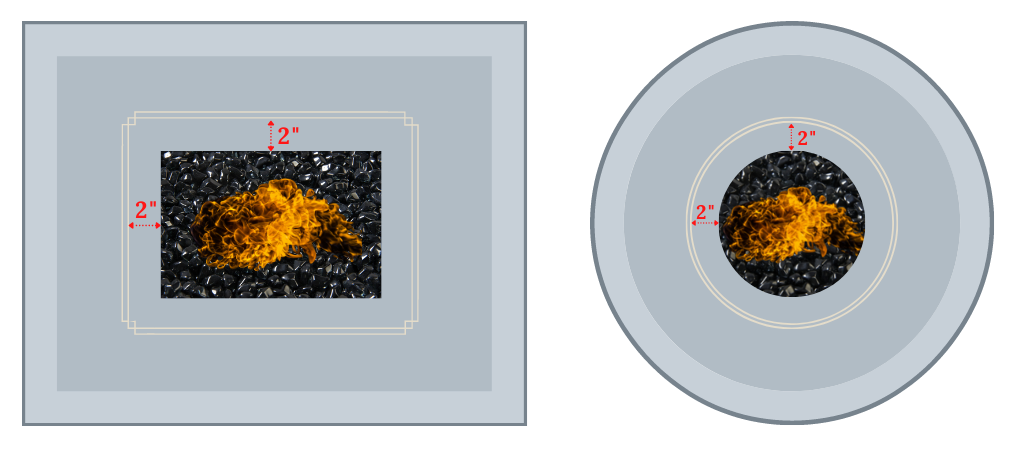 For more information, read our Glass Wind Guard Buying Guide. If you're still unsure about which glass wind guard is right for you, contact us today and we'll be happy to work with you to make the most of your backyard fire feature.