COOKE Commercial Grade 1/2" Glass Wind Screen For Any Firepit
COOKE Commercial Grade 1/2" Glass Wind Screen For Any Firepit
/shop/cpa-gws-cgws-12-cooke-commercial-grade-1-2-glass-wind-screen-for-any-firepit-6484
The COOKE commercial grade wind guard is perfect for fire pits that need the best. If you want a luxurious windscreen or one that never falls apart, look no further.
Constructed with extra thick 1/2" tempered glass, these panels are built to withstand the elements and provide a much thicker barrier than standard windscreens. The unique clamp design fully wraps the top and bottom corners of the glass in the clamp itself. This supports the windscreen and makes it incredibly solid. By wrapping the corners of the windscreen with the clamps it provides the most secure fastening option possible and it maintains a great view of the fire. The clamps raise the panels off the table top slightly which allows for a small amount of drainage and ventilation.
COOKE offers a variety of clamp colors so you can design your space perfectly. We offer a selection of colors and finishes so you can choose your preference. We even offer Ultra-Clear Starphire glass panels that will wow your guests with diamond clarity.
Finally, a great looking custom commercial grade windscreen that provides a solid barrier and exceptional durability.
Please note: The dimensions of this wind guard refers to the inside dimensions.
Features:
Custom-built to fit any size burner
Unique corner clamps prevent glass panels from falling out
Constructed from premium 1/2" regular or Starphire tempered glass
Provides a clear, unobstructed view of the fire
Easy to clean
Typically ships in 1-3 weeks
Made in California
Benefits of a glass wind guard:
They keep the flame from going out
They provide an added measure of safety
They can save you money
They help keep unwanted items out
They're a stylish addition to your fire pit
How to choose the correct wind guard size for your fire pit
The most important thing to note is that the wind guard has to be bigger than the fire pit opening. You DO NOT want your glass wind guard to sit in the interior of the burner pan, as they're not designed to be directly in the fire. We recommend using dimensions that extend 2 inches beyond your fire pit opening on each size. If your tabletop is smooth and level, it can be as close as 1 inch away, but 2 inches is a very good rule of thumb to follow. For the most accurate fit, our dimensions are the inside dimensions of the wind guard.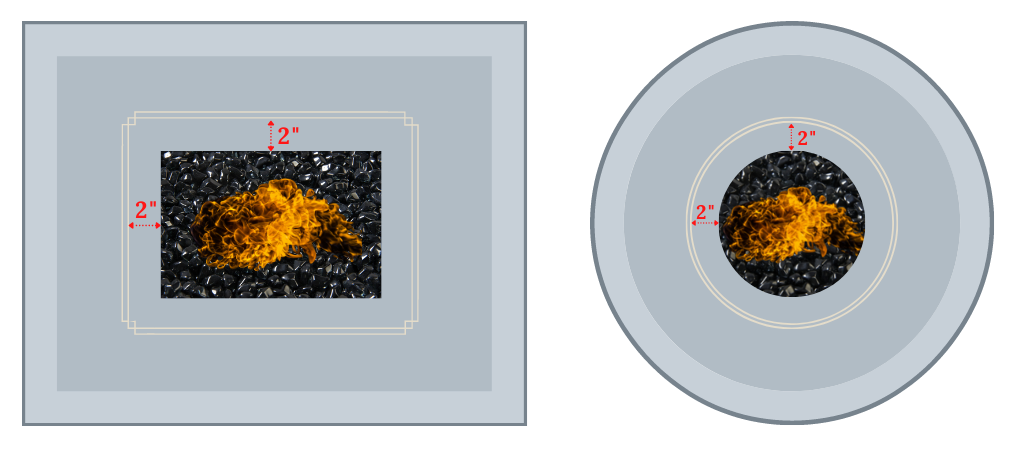 For more information, read our Glass Wind Guard Buying Guide. If you're still unsure about which glass wind guard is right for you, contact us today and we'll be happy to work with you to make the most of your backyard fire feature.